As a well-established company, Brick n Board offers you a full-service package that consists of any combination of the following:

HIGH-QUALITY
CONSTRUCTION​
Residential market – group housing, single dwellings, etc.

We manage from start to finish according to pre-set budgets, timeframes, standards and specifications.

We offer support with mortgage applications.
We offer a full aftercare service.
We know that our success in providing quality services has always been dependent on the talent and commitment of our employees. We have full time administrative staff, project managers and a well established network of subcontractors. Brick 'n Board is a client focused company who are able to assist at all levels to ensure your project can achieve a mutually acceptable outcome for both client and builder and in turn, ensure the overall viability of the project. Professional and friendly service based on your needs is extremely important to us. Our office has up to date details on each project thanks to an advanced information system.
::::::: now selling :::::::
Welcome to Estate living, you can call home!
The La Vignia Estate is for modern living in Kraaifontein with state-of-the-art security to create a safe environment for all residents. The estate consists of 142 sectional title townhouses just off Darwin Road.  The estate is perfectly designed for first time buyers, young couples, small families, young professionals, those scaling down or rental investors.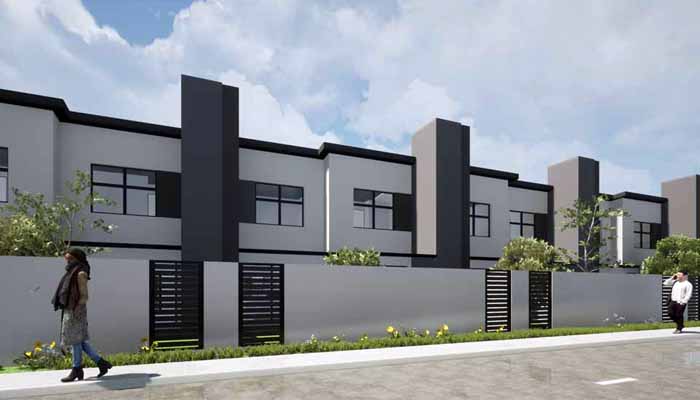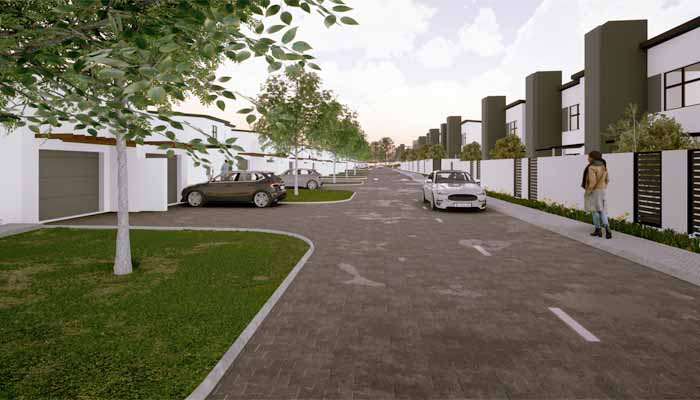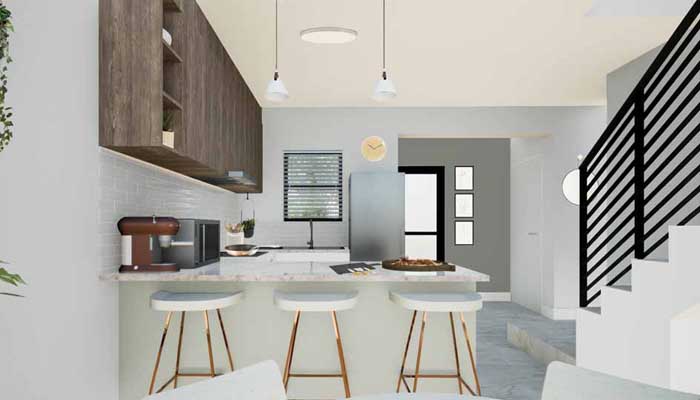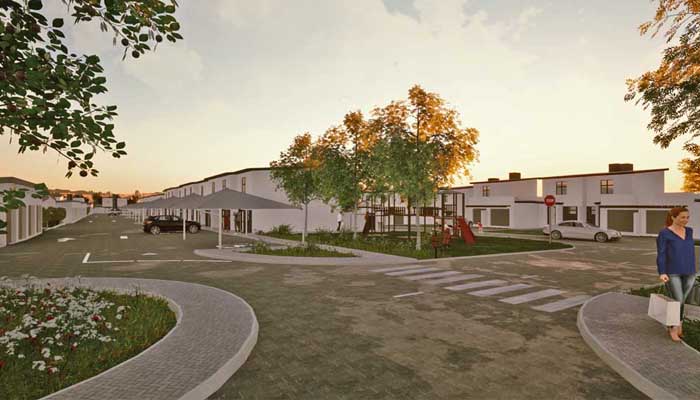 SECURE, MODERN LIVING IN THE HEART OF BRACKENFELL
Consisting of 129 units of single storey and duplex houses as well as apartments, Grandeur Estate offers quick access to local schools, as well as Haasendal Gables & Soneike Shopping Centres. Situated 15 minutes from Stellenbosch, there is easy access to the Bottelary Road and the R300 highway.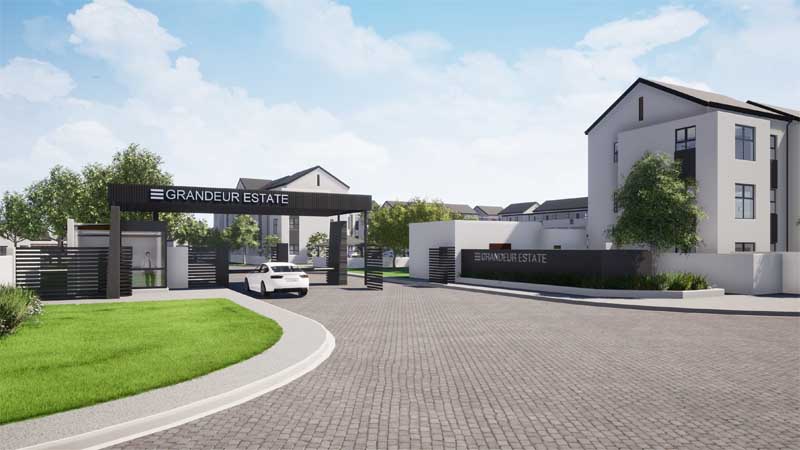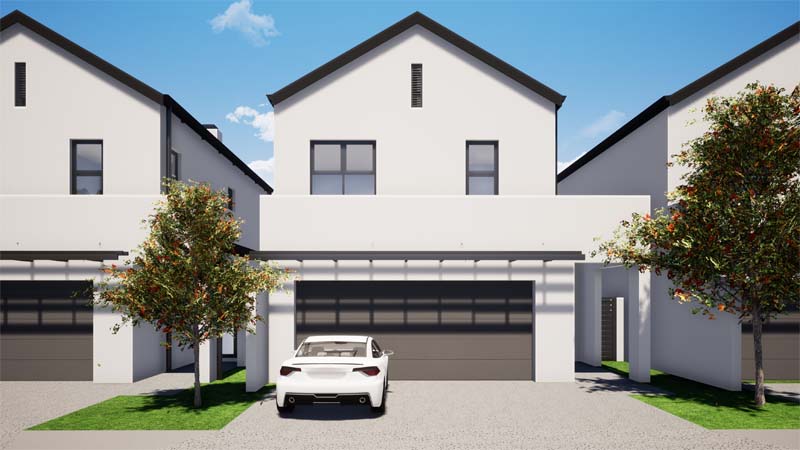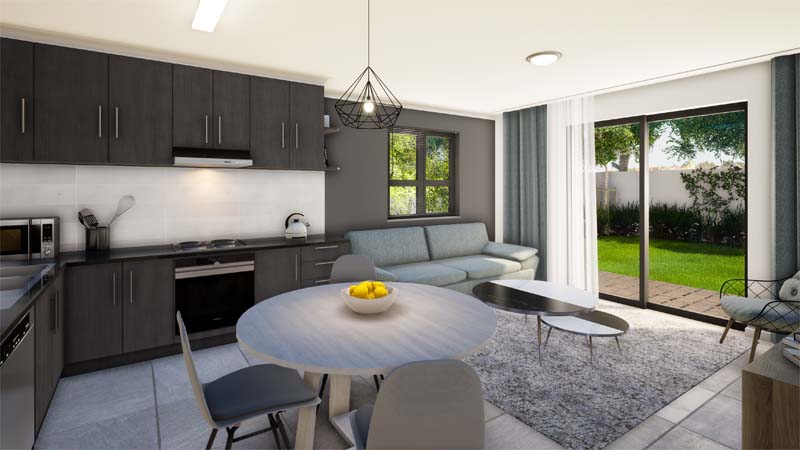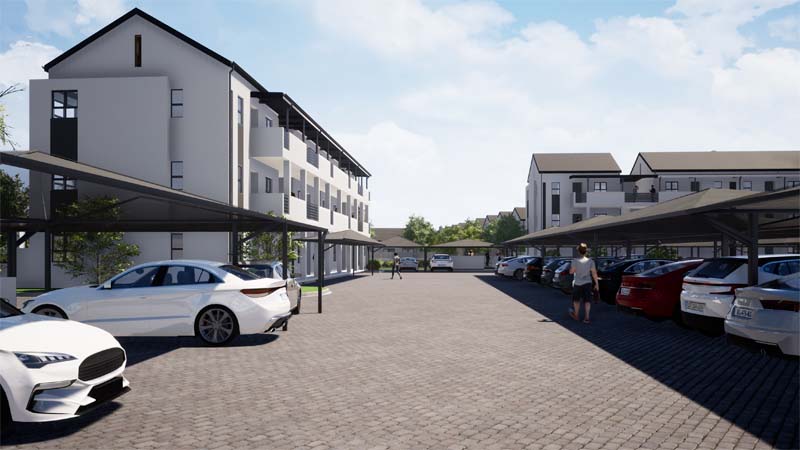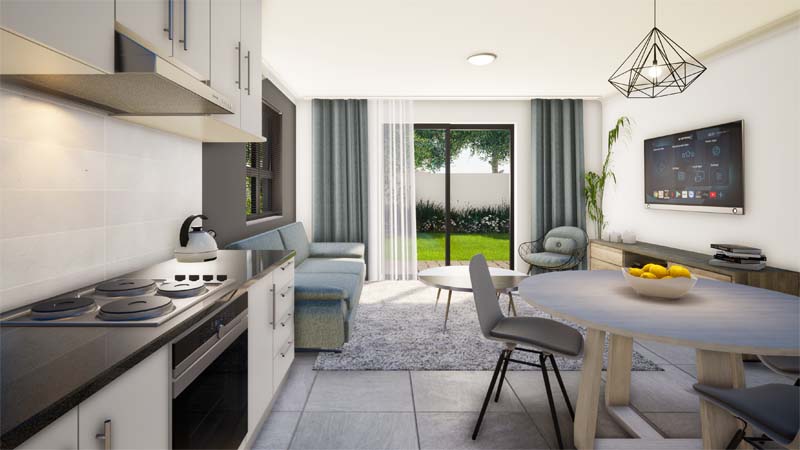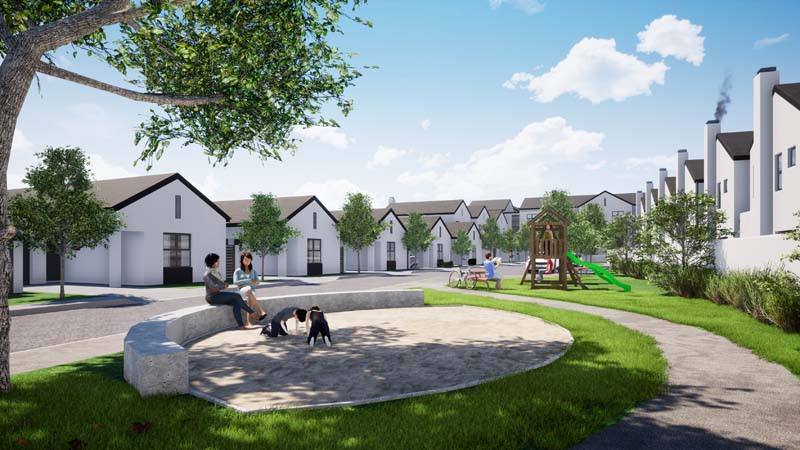 WHAT OUR CUSTOMERS ARE SAYING
Dear Jaco/Divan
We are buying a house in Grandeur Estate and from my first interaction with Yvonne and Wessel we have only had the most positive experience.  You have an awesome team!
Yvonne has been extremely patient, kind and helpful whenever I emailed to ask questions and believe me I asked many questions. She is definitely extremely well organized and thorough in every aspect of the process.  She made what can be a stressful process something pleasant to experience. She cares about clients and delivers on what she says she will do.  She is really a fantastic asset to your company.  It has been the greatest pleasure to interact with her.  She is super professional, but also very kind, understanding and caring.  I worked in the client service industry for almost 16 years and I have encountered very few people like Yvonne.  Make sure you keep her in your team! She gave us our Wow moment!  That's what client service is all about. 
My husband and I also interacted with Wessel the site manager at Grandeur on a number of occasions.  Again what a pleasure to deal with such a professional, kind, patient, helpful person. It is very clear that Wessel takes great pride in his work and he is excellent at managing such a vast project.  Both my husband and I were super impressed that despite being super busy he made time for a chat to answer our questions.  
Lastly, the receptionist at your office was super friendly, kind, helpful and sweet when I called and popped by to deliver something. Also a great pleasure to interact with her. 
All the staff of Brick n Board we interacted with have been super amazing.  I only send commendation when I feel it is really deserved and these staff members of yours really deserve it 100%.   
I am not remembering all the names of the staff we interacted with, but every single one of them were super helpful and professional.  Please convey our sincere appreciation and thanks to your fantastic team for all they have done and are doing for us.  We sincerely appreciate it.  
Salomé Borngräber
People complain about builders. My experience has been pure bliss. I cannot wait to move into my new house.
I am truly overly excited about Brick 'n Board's service delivery. As a team, they have entirely removed any negative connotation to building out of my experience and just made it one pleasant experience that left me totally delighted.
A special word of thanks to Pieter Steenkamp, he is so thorough and pleasant to deal with, let alone efficient.
If I ever build a house again or has someone that requires a sound recommendation, your team will be…guaranteed.
Keep up the great work Brick 'n Board.
A. Lategan from Clermont du Cap, Kuils River
Very professional service.
We had to go through the selection of items for our new house they are building and had a good experience.
Karsten Borngräber
Goeie dag Divan,
My twee seuns huise in Stonewood Estate gekoop.
Ek is baie beindruk met julle vakmanskap, gehalte, kennis en die ywer wat julle daarin sit. Ek het vir Hugh ontmoet met die bouery en hy hardloop letterlik rond om toe te sien dat alles vlot en volgens spesifikasie verloop. Ek was nou vir drie dae betrokke by die "snag" lys waar ek vir Deon ontmoet het. Joe, ek het nie woorde nie, hy ken sy storie, sien alles raak en is slegs tevrede as alles reg is. Hy dra beslis julle naam bitter na aan die hart, julle kan baie trots op hom wees.
Dra asseblief my dank en waardering aan die twee Menere op, hulle verdien n groot dankie!!
Dan die laaste aspek, waar is julle volgende projekte, ek wil ook graag n huis by julle koop by n ontwikkeling waar Bricknboard betrokke is, iets soos Stonewood?
Baie dankie ek hoor graag van julle, en "keep up the good work", julle naam gaan julle vooruit.
Vriendelike groete
Kosie Theron
Dear sirs,
During our journey of purchasing land and building our home at Aan De Wijnlanden we have been immensely impressed with the manner in which these two young men have conducted themselves and we feel it is essential that you are made aware of their outstanding performance.
First of all Nicho, the salesman we met at the beginning of this year, was always courteous and patient – and willing to let us have "just one more" viewing. His passion, professionalism and humility showed in every interaction. It was a pleasure doing business with him – and in the end a no-brainer to purchase into the showhouse "special".
When we met project manager Robbie Panther, we were immediately impressed with his unflappable nature and excellent communication with us. He never got flustered – even though we asked for some pretty complicated things – and he managed the build of our home in RECORD time. Our project was different in many ways and we know it must have presented him with some tough challenges, yet he was always one step ahead. He also gave us excellent advice along the way because of his insight and experience and we know that he steered us away from some pretty bad decisions along the way.
Although our relationship was a professional one we felt we could immediately trust him. We commend him for his outstanding project managing skills and we applaud his excellent communication and motivational skills. It was truly a job more than well done!
You are indeed fortunate to have these two men on your team and we highly recommend that you reward them for outstanding performances in such a difficult year.
Kind regards,
Eduardo and Lynette Afonso
Good Morning Divan,
I would like to take time in thanking Brick 'n Board for building our family such a wonderful home. I would like to thank Andre for the manner in which he conducted himself with regards to carrying out and supervising this build. He has a very kind manner with his clients and has been very professional and always willing to go the extra mile for us. His attention to detail and knowledge is something one has to admire. First on site and always last to leave. Andre thank you very much for making such a beautiful home that I am able to give to my family. I will recommend you far and wide my friend. To Yvonne, thank you so much for always taking and returning our calls and keeping all the administration work in order all the time. You have been very professional in your work place and treated myself and my family well.
Once again, Divan you have an awesome team.
Thank you very much.
Richard Appleby
Beste Divan,
Hoop dit gaan goed, ek glo daar aan om nie net te kla maar ook om komplimente te gee as daar goed gewerk word.
Ek het vanoggend erf 642 se final snags gedoen en moet se die huis is baie netjies gebou ,gehalte en vakmanskap is goed.
Dis goed vir Brick 'n Board se naam en die projek bestuurders wat daar betrokke was.
Dit was n plesier om saam met Deon en Seun te werk op die huis.
Hou so voort.
Groete,
Malan
Hi Yvonne & Divan,  
I would like to  mention how helpful and professional Robbie has been to date.
While I don't envy the kind of stress he must be under on a daily basis having to manage numerous ongoing builds, in terms of our build I have found him to be both accommodating and insightful. He always takes my calls and is willing to meet me at the house with any questions or concerns.
He really has been a super star. Thank you so much.  
I was happy to see that despite the weather today, the ceilings are going up in our house.  
Thanks again for the great service we are receiving from all of you. 
Kate McLaren
Hi Cherie,
We made an unscheduled visit to our house in Thursday, to show our children, because they haven't had a look and felt a bit left out.
There was not a team busy at that moment, but it did not look like a building site at all, it was so clean and neat.
This was really applaudable, usually after a built the property is still full of bits of wire and cement for years afterwards, it was wonderful to see the amount of care that went into keeping the site neat.
This gives us peace of mind that a lot of care will go into the whole project.
Thank you very much!
Jan and Lorraine van Niekerk
Hi Divan,
Ek is die eienaar van 56 The Westmont.
Maar ek wil vandag net onder jou aandag bring dat Cherie Nel is n super ster.
Sy was ongelooflik goed in haar werk toe ek die huis laat bou het en vandag het ek weer op haar knoppie gedruk en weereens is dit dieselfde ongelooflike goeie diens.
Dis great om met sulke mense te werk.
Lekker dag verder.
Des Loubser